HERE ARE THE BEAUTY BENEFITS OF AMLA JUICE FOR SKIN!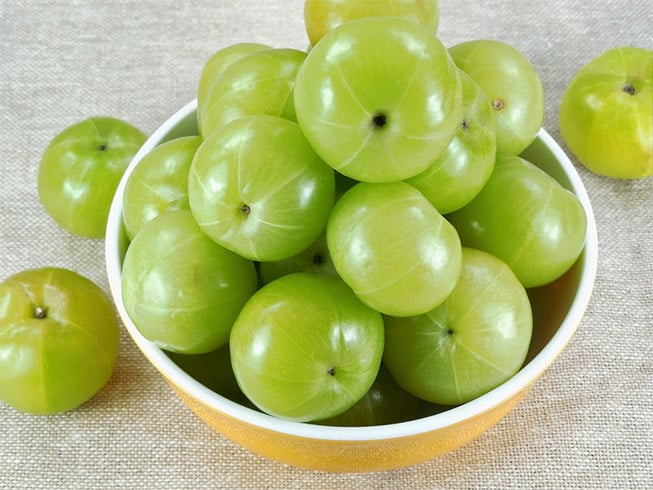 Amla juice can do wonders for sagging skin – When skin collagen decreases, the skin tissue becomes soft and loses its firmness. Amla juice can set this right as it has Vitamin C which increases collagen production and is effective in keeping the skin charming and vibrant.
How To Prepare Amla Juice:A quick way to prepare amla juice is to blend some chopped amla pieces with water. You need to filter this so that the pulp is removed. You can add some pepper powder or honey as per your taste preferences.
Natural astringent: Apart from intake of Amla juice, you can use it to clean your face as it has toning properties and exfoliates gently to remove dead skin cells.
Vanish marks & scars: Amla juice used in combination with turmeric powder and lemon juice has the ability to reduce marks, scars and blemishes.
Bright complexion: Mix amla juice with honey and mashed papaya – Use this as a face pack to make your complexion bright and few shades lighter.
Feel young: Drinking amla juice stops the premature aging and also gives a youthful & vibrant look. It also helps reduce skin pigmentation and makes your skin brighter.
Treating dull skin: For dry and dull skin, make a cool face pack using half a teaspoon of yogurt and honey. Use this face pack once a week to see the best results. Another remedy is to make a paste with amla juice, multani mitti, rose water and olive or almond oil. Apply this on your face and leave it for 10 mins. Then wash it off with warm water to notice supple, soft and healthy hydrated skin.
Drink to good health: Drinking amla juice keeps away skin problems by purifying blood and ensuring proper digestion.
Apart from this, Amla juice helps in keeping cholesterol levels low and has the ability to reduce inflammation or swelling on skin.
With so many benefits and advantages, Amla juice can be incorporated in your daily beauty regime. Whether it be drinking it or using it in face packs, the natural Amla can work miracles, repair your skin, keep it healthy, glowing and radiant effectively.